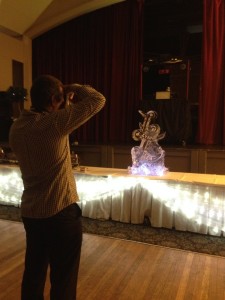 Well I apologise for such a long gap between posts but we have been incredibly busy since January. We've been really fortunate to have had the BBC back again to do more filming for the regional rugby matches. Smashing up our previous ice sculptures with a lump hammer was quite an unusual experience but none-the-less a satisfying one.
We have also been busy tailoring team building sessions to suit large groups of people to specific requirements, with very successful results.
On St. David's Day we were invited to A Celebration of Wales at the Celtic Manor to raise money for St. David's Hospice and the For Luca foundations. It was so wonderful to be a part of the event and we had a brilliant evening.
Also this month, I was thrilled to meet up with my old boss and ice sculpting mentor Adrian Innocent who was visiting from Australia. He came in for the Morning to carve an ice sculpture for his parents. It was so good to catch up after 7 or 8 years!
Our latest activity was a meeting yesterday. It is TOP SECRET at the moment but this is definitely the biggest challenge Gareth and I have ever had to face so far. It is very exciting and designs were agreed and finalised yesterday. So now we just need to sort out technical details etc. As soon as we are allowed to,  I will post more information. Watch this space!