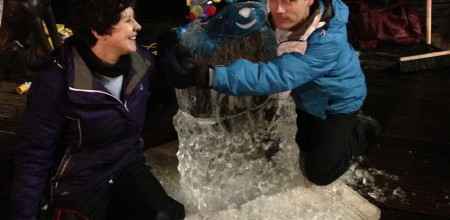 Hello, I apologise for not having been a very good blogger recently, we've just been so busy. What with sculpting live in Cardiff Bay for Children in Need, producing some sizeable sculptures for Demon FM's 18th Birthday in Leicester, doing a taster session for Buzz Magazine and carving the Lloyds Banking Group's horse for their LBG's Got Talent evening, we just haven't had the time!
We've also got some exciting things in the pipeline which you will find out about when we know more: there will be meetings.
Despite being run off our feet, today has been a really nice day as Gareth and I have been busy getting some sculptures made for The Celtic Manor's Christmas Kingdom – we are producing a few carvings for the event and also carving something live on the 30th Nov for the opening night. It's always nice to have company in the freezer whilst I'm carving and it's so great to see Gareth's ice-sculpting skills getting better and better. He's gone from carving mainly geometric shapes to sculpting a Christmas Sleigh.
I have finally thawed out for the evening now and am enjoying a well-deserved glass of wine. There's something so satisfying about having worked a long, physically demanding day, side-by-side with my husband, having a laugh and enjoying every challenge that crops up. I'm so glad we decided to go for it and set up the business just a little over a year ago.